I just made this tonight. It's really good! I made a few changes though based on what I had or preferred. I used no fennel seeds, no green chillies, 1/2 tsp each of cumin and coriander instead of 1 tbs, and lemon juice instead of amchur powder. Instead of the spice bag, I just sprinkled clove, cinnamon, and black pepper on the dish while cooking. Also, I used organic brown rice instead of white.
Miriam
Since legumes provide the bulk of protein for vegetarians, its inevitable that it is one of my go to ingredients. I have so many variety in my pantry that it helps me to vary my meals providing freshness to the dish. But somehow, I never seem to find time to post such dishes since I do that mostly in a jiffy and to take pictures every time becomes a cumbersome process. Weekends, I end up resorting to ingredients available here which might be a problem for readers across the map. But recently, I was asked for Rajma Chawal by a reader and I was like -"Oh my god! I don't have Rajma Chawal in the site?!!!". I manage to astound myself every time since I always convince myself that nobody wants such dishes. Why I would assume such a thing is beyond me!
There is one section of readers who tell me that I seem to be lagging behind my usual game whenever I post simple recipes and not hard ones. I would put a special plea to such readers asking them to be patient and understanding of the fact that there is another huge section of readers who want simple day to day meals too and they are curious to know how I prepare it. Out of 250 odd recipe request I have in my "to-do" list (which is growing every single day :( !), at least 150 of them are simple day to day recipes. Few of them sadly, I cannot undertake due to lack of ingredients in this part of the world, while few others I cannot cos I don't make them there being no takers in this house! The others I am doing slowly as and when time paves way. So this Rajma Chawal is one such dish in this category.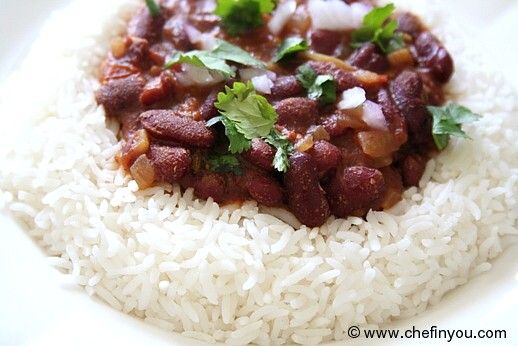 Rajma
in
Hindi
means "
Kidney Beans
" and
Chawal
means "
Rice
". This, in short, you can call as
Kidney Beans rice
. But unlike pilafs where everything is mixed together as one pot meal ,this popular
Punjabi
dish,is enjoyed in a different way. A side dish of kidney beans is prepared with spices and then enjoyed with rice. Two different elements cooked separately comes together as a final dish. You can make this one day as a side dish for say Roti's, chapathi's, tortillas etc. Since this side dish is even more awesome the next day, if you have leftovers, enjoy them then traditionally with rice. This is what mostly happens in my house where I prepare this for dinner and I enjoy the leftovers the next day with steamed rice and curd. Its not the end of the world if you don't use this many spices as I have mentioned. They do make the dish taste good, agreed. But its totally OK if you want to use just 1-2 of the spices - whatever you have on hand. Its still a versatile dish and will end up being hearty and nutritious nevertheless. I have not added any "fat" per se, but trust me when I say this, a little bit of ghee/butter makes this "heavenly!". ;)
Ingredients
1 cup Kidney beans (or use canned to make it even quicker)
1 onion, finely chopped (I used Red onions)
2-3 tomatoes, chopped
1 tsp fennel seeds (or use cumin)
About 1 inch ginger, peeled and grated
1-2 green chillies thinly sliced (or as per taste)
1/4 tsp turmeric powder
1 tbsp cumin-coriander powder
1 tbsp amchur powder (dry mango powder) (or use lemon juice)
Salt to taste
Cilantro and finely chopped onions for garnish
For the spice bag
3-4 cloves
2-3 whole green cardamoms
1 inch cinnamon stick
1 bay leaf
4-5 black pepper
Method
1
Soak the kidney beans overnight. Of course you can use store bought canned beans. Make sure to drain them well and rinse in cold water before using them.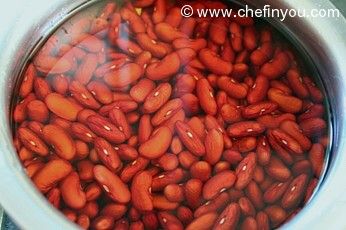 2
Before cooking the kidney beans, make a spice bag by packing the spices in the "spice bag" section of the ingredients list in a cheesecloth, tie it up and drop it in the water along with kidney beans.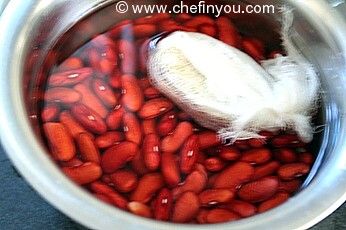 3
Once cooked, removed the spice bag and discard. I use Pressure Cooker and it takes about 10-12 minutes for it cook. While that's cooking I prepare the gravy. You can finish the complete dish within 15-20 minutes.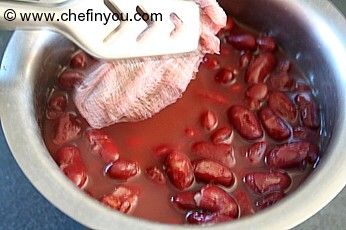 4
Meanwhile in a skillet, add 1 tsp of oil (for the traditional Punjab richness, add Ghee instead), saute the fennel seeds, onions, chilli and ginger along with little salt.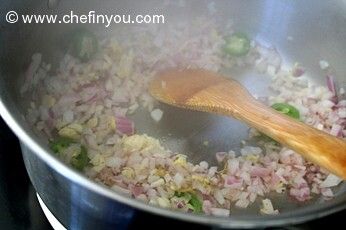 5
Once soft add the spice powders and saute for few more seconds.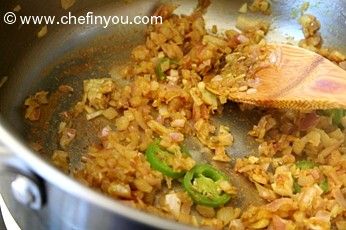 6
Add the tomatoes.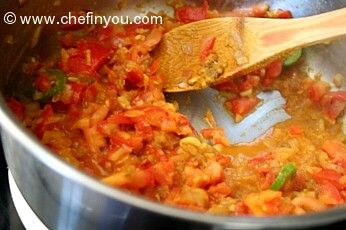 7
Add little water and Cook until tomatoes are soft.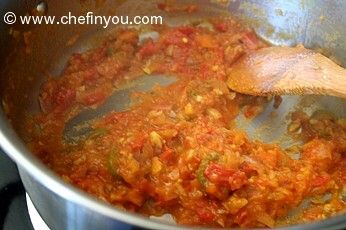 8
Add the kidney beans along with cooking water.
9
Cook for another 2-3 minutes. Taste and season if needed. You can add more water depending on the consistency you like. Break down some of the kidney beans to thicken the gravy.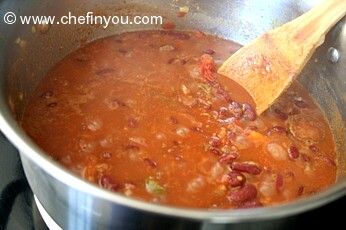 The traditional way is to enjoy it with plain rice. You can also serve it along with chapathi, roti, naan or any pulav if desired. I like to garnish it with finely chopped red onions and cilantro. This plate of hot Rajma Chawal finds its way to
Siri's MLLA this month.