I made these today! Yum! So easy and fast.
Miriam
No-Bake Coconut Crack Bars
This could be your new favorite snack: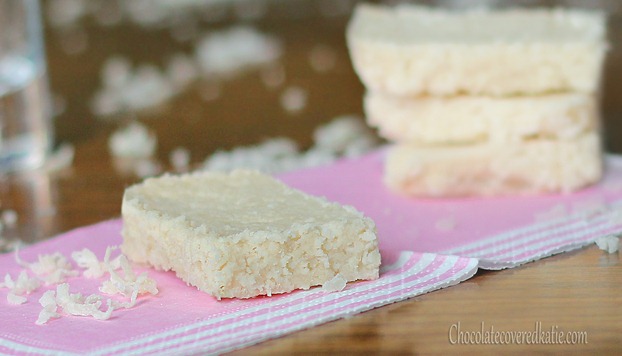 And you can make them in under 10 minutes.
Addictive, no-bake, easy.
As if I needed yet another addictive no-bake recipe on the blog. Oh but one can never have enough no-bake recipes, especially when they taste as good as these chewy coconut bars. (P.S. This is a variation of another recipe that's going in my cookbook: Healthy Magic Squares!)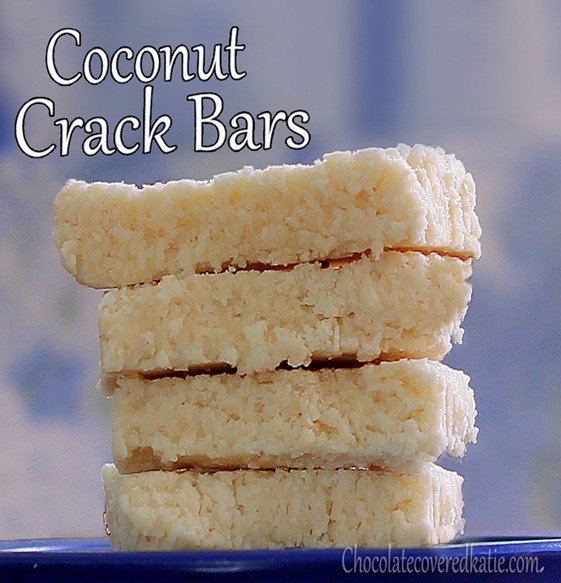 You know what else one can never have enough of?
Obviously I would say chocolate. (The eleven different types of chocolate bars in my kitchen pantry attest to that.) My roommate would say makeup, as her collection could stock three separate branches of Sephora. My sister would probably say shoes. Although she might say nailpolish. She really does have a lot of nailpolish.
And one can never have enough coconut. Except maybe my crazy boyfriend who just yesterday informed me that he doesn't like coconut. I think I stared at him blankly for over five minutes, trying to comprehend that statement. You know, I also once dated a guy who didn't like chocolate…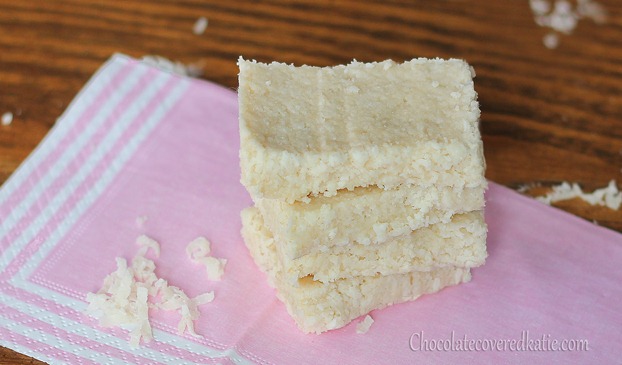 Makes 6-8 bars
1 cup shredded coconut (unsweetened) (80g)
1/4 cup agave or pure maple syrup (or 1/4 cup water and 2-3 nunaturals stevia packs)
2 tbsp virgin coconut oil (See nutrition info link below, for all substitution notes on this recipe.)
1/2 tsp pure vanilla extract
1/8 tsp salt
Combine all ingredients in a food processor. (Perhaps you can mix by hand if you don't have a food processor, but I haven't tried.) Squish into any small container (I used a 7×5) and fridge for an hour before trying to cut. (Or freeze for 15 minutes.) Can be stored in the fridge or freezer, for at least a few weeks.