A little presumptuous right? To call these the perfect mashed potatoes? Well, these are the Perfect Mashed Potatoes for me. After trying many recipes and trial and error over the years, I have found the technique that works for me.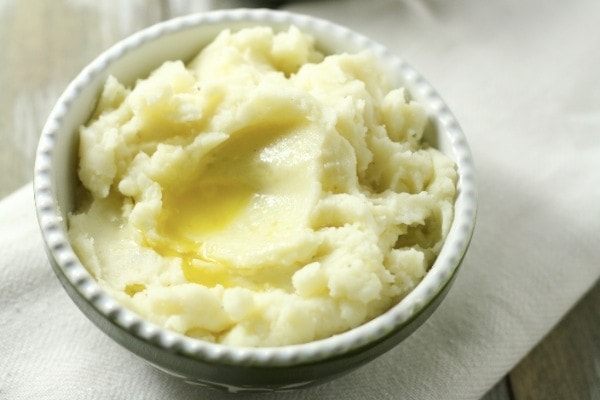 Perfectly creamy with some potato chunks is the way I like to make mine. Picking the right potatoes for your perfect mashed potatoes is very important.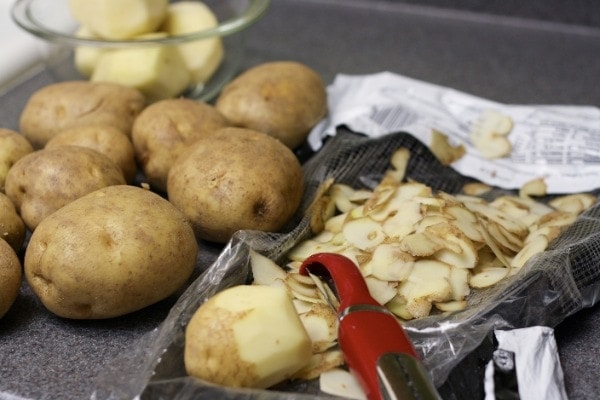 White potatoes, Yukon Gold potatoes and even red potatoes will work depending on the texture you're looking for. For Thanksgiving, I use white potatoes.
Very important tool for peeling potatoes, having the
right vegetable peeler
. I know you what it's like to work with a dull peeler or a non-efficient one…it takes forever to peel potatoes! With a good peeler, it should only take 10-15 minutes to peel a 5-pound bag of potatoes.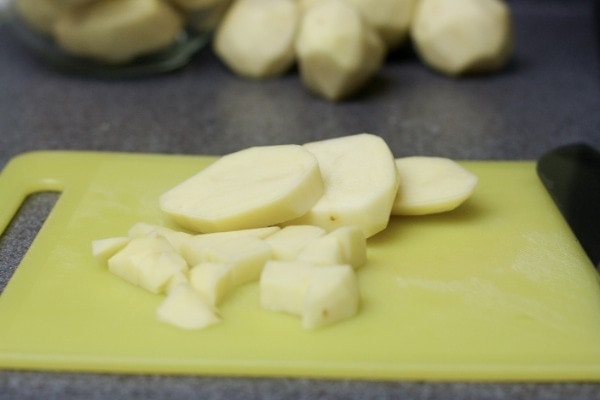 Rinse and then dice your potatoes, trying to get most of them cut in a uniform size. Use a good knife and make sure it's sharp.
Cover the potatoes with water in a heavy-bottomed pot along with two teaspoons of table salt. Bring to a boil and allow the potatoes to boil for at least 8-10 minutes or until potatoes soft enough to stab a fork through.
This is an important step, drain the potatoes and return to the same burner (turned down to warm), cover the potatoes for at least 15 minutes before mashing. This will remove the liquid, getting rid of watery mashed potatoes.
Now we're ready to go. This is very simple recipe, just potatoes, salt, (very good) butter, 2% milk and nutmeg (optional).
Mashed potatoes is my absolute favorite Thanksgiving side. I don't want to play favorites because I love stuffing and vegetables too but if I had to, you know what I mean.
I only add the nutmeg for Thanksgiving mashed potatoes. It adds a really nice, unexpected flavor and makes it that more special. This Thanksgiving, I'm looking forward to spending time with my family. I hope you enjoy yours this holiday season.
Perfect Mashed Potatoes

An easy recipe with some great tips to make the most perfect mashed potatoes. This recipe goes well with either white potatoes, Yukon golds or red potatoes.

ingredients:

5 lbs of white potatoes (or Yukon Gold or red), peeled and diced
2 tsp salt
4 Tbsp unsalted butter
3/4 - 1 cup 2% milk
coarse sea salt & freshly ground pepper
pinch of ground nutmeg (optional)

directions:

In a heavy-bottomed pot, add peeled potatoes, enough water to cover the potatoes (about 1 to 2 inches above the potatoes) and salt. Bring to a boil on high heat. Allow potatoes to boil for 8-10 minutes or soft enough to stab with a fork.

Drain potatoes and return to the burner, turn heat down to warm, and cover potatoes. Allow to sit on the burner for at least 15-20 minutes, to allow the moisture to dry off.

Add butter and mix with a wooden spoon. Using a potato masher, mash the potatoes.
Add milk and mix well, for creamier potatoes, add more milk. Season with salt and pepper to taste. Add a pinch of nutmeg to taste.

Cook's Notes:
Potatoes can be peeled and added to your pot along with the water the day before. Often, I will boil my potatoes and allow them to sit on the burner with it turned off for a couple of hours. When you're ready, turn the burner back on warm for 15-20 minutes and start mashing.
I use a potato masher because I like mine a combination of creamy and chunky. If you like them completely creamy, use a potato ricer or even a blender.
When adding milk, add a little bit at a time, you can always add more but you can't take away.
http://www.thelittlekitchen.net/2011/11/15/how-to-make-the-perfect-mashed-potatoes/#.UOYxum-_EW1